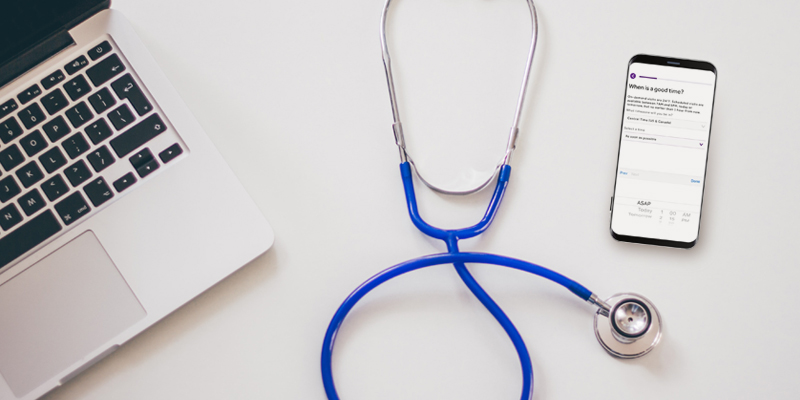 Telemedicine: Convenient Access to Quality Healthcare
It's the 21st century. Waiting times for walk-in clinics are often very long, and most Canadians with a family doctor fail to book an appointment within 48 hours. In some parts of the country, it can take over a year to be assigned a family doctor. Your smartphone is the solution!
Finally, healthcare may have taken a step into the future with TeladocTM. Amongst others, the Chamber of Commerce group insurance plan offers the service to its members. Employees who receive medical coverage can directly access a certified physician within one hour via phone or video. The process is simple, install an app, request to see a doctor, and you will soon be contacted back by a participating physician. This allows patients access to professionals for a broad array of episodic healthcare issues if the need arises.
TeladocTM becomes even more beneficial for families who do not have access to a family doctor whose only recourse is a day lost at a walk-in clinic or an emergency room. The incredible strength of the service is in connecting you directly to an experienced clinician with technology that most already have at their disposal without. You may request a call 24 hours a day, 7 days a week, and be serviced in either French or English. The service is available if you travel to the United States, making healthcare even more accessible to Canadians. If the condition warrants it, the physician you have spoken to may even issue a prescription remotely. This service is invaluable for employees and employers alike, providing convenient access to quality care.
Employers lose 2.7 billion dollars per year because of family-related health issues. The labor lost is overwhelming to employers around the country, with Canada unfortunately rating rather poorly amongst developed country in terms of access and this affects us all. Employees spending time waiting to get treatment or counsel are not productive. It's that simple. Absenteeism (missing work due to illness) and presenteeism (coming to work even when you are sick) pose a big problem for businesses. However, according to one benefits executive who implemented TeladocTM stated: "[His] absenteeism and presenteeism are all down." This expresses how telemedicine is not only convenient to employees but also employers who care about their business. 84% of Canadian employees expect their employers to support their health. With this benefit, employees are again satisfied with the benefits provided by their employer. Employee satisfaction can reduce turnover, increase productivity and therefore profits. This is just another example of how accessing TeladocTM can be incredibly beneficial for employers.
The current system in Canada causes extreme wait times, in a time where immediacy and convenience are consumer's top priorities. This new usage of technology for health-related service is a step forward for employees looking for fast and convenient medical opinions. Perhaps this technological model is a step towards a new paradigm in both healthcare and employee benefits. The use of telemedicine just might be the final step healthcare services need to make to step into the 21st century and finally catch up with modern technology.
SCORE Financial Services works with small and medium-size businesses, as well as independent professionals to develop, institute and manage group insurance plans, and specific benefit programs catering to the needs of the owners, executives and employees of these companies. We have the capability to offer-complete solutions to satisfy the needs of corporate and individual clients. Contact us today for a quote.