Chambers of Commerce Group Insurance Plan
The Chambers of Commerce Group Insurance Plan, also called the Chambers Plan is one of the most well-curated plans to specifically address the group benefits solution needs for small or mid-sized businesses. With attractive features and ease of access, the Chambers Plan can be highly beneficial for your employees, as well as your business. As the largest pooled employee benefits plan in Canada, the plan covers over 30,000 businesses, which gives you a high level of reliability and control over the coverage and costs. While the basic plan consists of life insurance, you can customize it by adding medical, dental, prescription drug, disability income, critical illness, retirement savings, business overhead, employee assistance and so on. Every plan includes the Teladoc Medical Experts® services.
Why the Chambers Plan?
It's simple! The larger the pool of employees covered under the plan, the better the rate stability and premiums, as they are not susceptible to the rate changes that happen with a small group of employees or the nature and frequency of their claims.
The Chambers of Commerce Group Insurance Plan aggregates the claims of similar participating firms to determine a fair rate across these groups. For your business, this translates into ease of access, affordability, and a high level of stability for your group plan rates.
Moreover, the Chambers Plan has built a solid reputation and track record for:
Fast and accurate claim payouts
Consistent service and support
Streamlined administration, including the option to manage your plan online if you prefer
Ideal for businesses with 1 to 50 employees, the Chambers Plan is flexible, reliable, and customizable to meet your changing business needs and budgets. It gives you the opportunity to attract, retain and manage your staff with a superior group benefits option.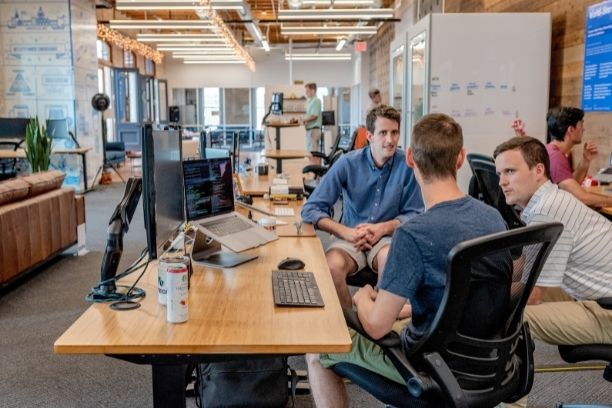 10 Great Reasons to Choose the Chambers Plan
No Minimum Firm Size
No Industry Restrictions
Guaranteed Approval
Guaranteed Renewable
Rate Stability
Not-for-Profit
Outstanding Service
Fast, Accurate Payments
You Choose the Coverage
You Control the Cost
The Chambers Plan Group Benefits

Health Coverage
Protecting the health and wellbeing of your employees is an essential aspect of protecting the productivity and strength of your business. Providing an attractive health coverage plan can contribute to lower absenteeism and greater productivity levels, along with higher employee satisfaction and reduced employee turnover. The Chambers Plan covers a number of health costs that are typically not part of the provincial plan inclusions. From vision care, prescription drugs, and paramedical services, to extended hospital and diagnostic care, virtual health, and access to wellness resources, through the Chambers Plan, you can offer a host of features to take care of your employees' health and safeguard your business.

Dental Coverage
A group benefit plan that includes dental coverage can give your current and prospective employees a big reason to smile! The dental coverage plans offered by the Chambers Plan include dental treatment, as well as emergency dental services. Your full-time employees can receive routine dental care without worrying about the high costs of routine procedures or checkups in Canada. In fact, the Chambers Plan ensures adjustment of claims in real-time at the dentist's office, making it a cashless, hassle-free feature for your employees. The only payment that the employee makes is for any portion of the fee that may not be covered in their specific plan.

Disability Coverage
The Chambers Plan Disability Insurance Benefits allow you to provide your employees social and financial security if they meet with an accident or suffer an illness-related disability that prevents them from working for a specific duration, or permanently. Since you can customize the plans to suit the unique needs of your business, you have the option to choose short term or long-term Group Disability, or both. Short-term plans include insurance for up to 6 months, while long-term plans cover a 2- to 5-year period, or until the age of 65. The Chambers Plan promises guaranteed coverage to businesses with 3 or more employees.

Critical Illness Insurance
Critical illness benefits offer financial support in the most challenging time of need. Including critical illness insurance in your group benefits plans is a significant incentive for your current employees, as well as prospective hires. It has the potential to ease any concerns related to the financial burden that an employee may face in the event of a severe injury or illness. The Chambers Plan Critical Illness Insurance can provide a lump sum benefit of up to $50,000 and the payout does not require any immediate medical evidence. The immediate financial assistance covers additional costs following a diagnosis of any of the severe conditions listed by the insurer.

Life Insurance
Emergencies or unpredictable life events can take a toll on the health and wellbeing of your employees and their families. The group life insurance offered under the Chambers Plan can provide ongoing financial support to the employees' beneficiaries in the event of a death. The plan includes coverage up to $300,000 with living benefit provisions included in every policy. Your employees will also have the option to top up existing plans or purchase additional benefits, such as Dependent Life (to insure spouses and children for all causes of death) at Chambers Plan group rates.
Value-Added Services
While health, disability, and life insurance may be standard benefits that are available through most other group benefit policies, the Chambers of Commerce Group Insurance Plan includes value-added services. These services improve positive outcomes from of your group benefits plan at no additional cost. With the Chambers Plan, you can offer your employees several unique services, such as access to Hugr® as a wellness resource, Teladoc Health® for telemedicine, and privileged access to medical specialists inside and outside of Canada.
The Chambers of Commerce Group Insurance Plan delivers everything you would expect from a group benefits plan, and much more. At SCORE Financial Services, we can help you build a personalized, cost-efficient Chambers Plan solution that caters to the unique group insurance needs of your business. Contact us today for a complimentary analysis.
Looking for a second option or just wondering if you can do better?
We're Here for You. Let's Talk.
Contact us to discuss your needs so that we can find
the right solutions for your business and employees.